The Student Publication Association aims to be as accountable as possible and aims to publish as many of it's documents as contemporaneously as is practicable.
Should you have any queries which are not answered by the documents on this page, please contact chair@spajournalism.com and we will aim to assist you as soon as possible.
Policy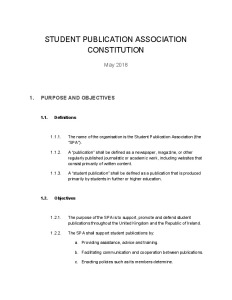 Adopted in July 2014, as developed by Elliot Davies (Development Officer 2014-15).
Updated to current form in May 2018, as ratified by National Conference in May 2018.
Motion 1501 – Unpaid Internships Stance
This motion was proposed by Jem Collins, (Chair 2015-16) and was seconded by Jon May (Development Officer 2015-16). It was passed by majority in a blind exec ballot on 22 August 2015.
Bullying and Harassment Policy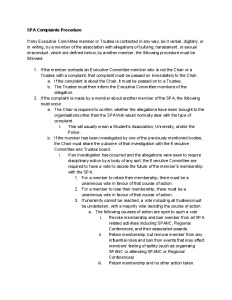 Finances
These accounts are updated within 30 days of payments being received or paid. They are maintained by the Student Publication Association's nominated Financial Officers.
These accounts were submitted by Jem Collins, Trustee.
These accounts were submitted by Jem Collins, Chair 2015-16.
These accounts were submitted by Sophie Davies, Chair 2014-15 for the 2014-15 period.
Agendas and Minutes
MINUTES: AGM April 7, 2018
MINUTES: SPANC Steering Commmittee, May 2
MINUTES: SPANC Steering Committee, April 25
MINUTES: SPANC Steering Committee, April 18
MINUTES: SPANC Steering Committee, April 11
MINUTES: SPANC Steering Committee, April 5
MINUTES: SPANC Steering Committee, March 21, 2016
MINUTES: Officers and Committee, August 31, 2015
AGENDA: Officers and Committee, August 31, 2015
MINUTES: Officers and Committee June, 8, 2015
AGENDA: Officers and Committee June 8, 2015
MINUTES: Officers and Committee May 17, 2015
MINUTES: Committee, May 5, 2015
MINUTES: AGM April 12, 2015