The SPA is pleased to announce the relaunch of it's mentoring scheme for 2019. The scheme is aimed at pairing aspiring journalists and recent graduates with those already making their way in the industry.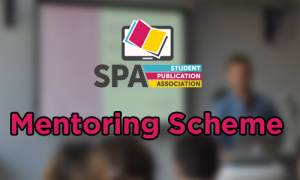 The scheme will be open from mid August, to all student and alumni members of the SPA. Mentors come from TV, Radio, Print and Online Journalism, as well as PR.
We've specifically picked recent graduates who are already making impressive strides – so you can easily relate to them and they can give you the best, most relevant, advice.
Past mentors have included:
Erica Buist, The Guardian
Ben Jackson, The Daily Mail
Aubrey Allegretti, The Huffington Post
Lydia Hamilton, ITV Channel Islands
Tahlie Cooper, Diffusion PR
Charlotte Gay, Global Radio
Brenda Wong, Voxburner
Kiran Kaur, kmfm
Jem Collins, politics.co.uk
Clarissa Place, Sidmouth Herald
Sian Elvin, Kent & Sussex Courier
Duarte Romero Varela, Totally Communications
Molly Pike, The Daily Star
Rebecca Lawrence, Mail Online
Jayna Rana, Investment Week
Mel Ramsey, LADBible
The Fine Print
We don't guarantee that we will match everyone to a mentor. This is a competitive scheme and we will only be taking on people who have a genuine passion to succeed and have a proven track record.
We will aim to reply to all applicants with two weeks, however in exceptionally busy times, this may be extended.
If you are lucky enough to be matched with a mentor, you can expect to get a direct contact address for them, so you'll be able to ask them any questions you may have. We'll also announce your mentorship through our social media channels.
Please remember that our mentors may be subject to change at any time – and they are busy people, so may not be able to respond to your queries immediately.
If you are unsuccessful in your application, you're welcome to reapply after a period of at least two months if there are spaces – we will always try and tell you why you didn't make the cut.
To apply for the scheme you must be an SPA member. We will also consider applications from SRA or NaSTA members.
If you have any questions about the scheme, or you are interested in becoming a mentor, email Edd Church via training@spajournalism.com and he will get back to you asap!
The Application (COMING SOON)
If you're interested in applying simply fill out the form below.