The shortlist for the 2016 SPA journalism awards will be released shortly – we will update this page as categories are announced.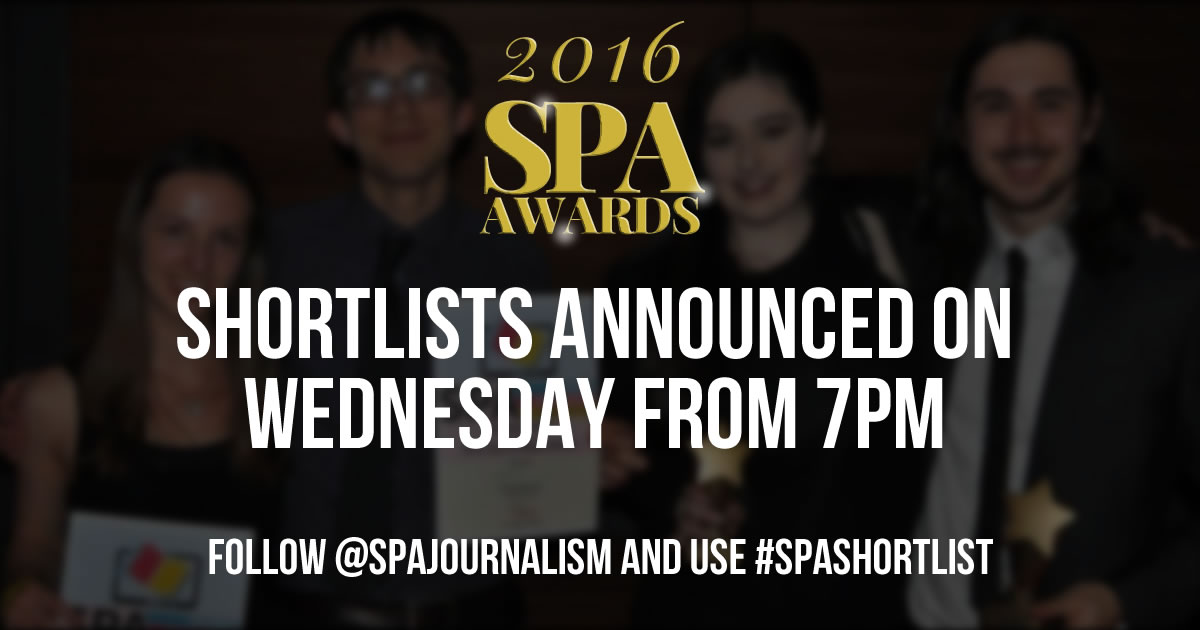 Awards Categories
Best Reporter
Sponsored by: University of Kent
Judged by: Bill Coles, Ex- Tabloid Reporter
This category rewards consistently exceptional news reporting from an individual at a student publication. It will take into account the range of stories, impact on the intended audience and the quality of journalism.
Best News Story
Sponsored by: News Associates
Judged by: Jonn Elledge, Editor, City Metric
This category is designed to recognise quality news reporting from student publications. It will take into account quality of sources, structure, and impact of the article on the intended audience.
Best Feature
Judged by: Clare Foggett, Editor, Garden News Magazine
This category is for longer, magazine style pieces, about a specific area or focus. Judges will look at flow, structure, impact, passion and storytelling. E.g. Investigative journalism, content with impact.
Best Entertainment Piece
Judged by: Ella Dove, Good Housekeeping & Prima
This category can focus on various areas such as music, film and culture. An example could be a music preview, a film critique or a theatre review.
Best Interview
Judged by: Matt Harris, Made in Cardiff
This category aims to recognise the best interviews made by student publications, whether that be with politicians, musicians, or even a local community worker, looking at the style, presentation and impact of the interview.
Best Comment or Opinion
Judged by: Asa Bennett, Assistant Comment Editor, The Telegraph
This category showcases the best comment or opinion writing from a writer at a student publication. It will take into account structure, relevance to the audience and impact of the piece.
Best Use of Digital Media
Sponsored by: Brighton Journalist Works
Judged by: Brighton Journalist Works
This category will recognise the most innovative use of multimedia platforms, including audio and video, to enhance their publication's content. This also includes the use of social media networks.
Best Sports Coverage
Sponsored by: News Associates
Judged by: News Associates
This category aims to recognise the best overall sports coverage by student publications, whether it be coverage of BUCS events, Varsity series' or other university sports events.
Best Design – Magazine / Newspaper
Judged by: Roger Kasper, Editor, Kent and Sussex Courier (Newspaper)
Judged by: Ashley Austin, Graphic Designer KM Group, (Magazine) 
This category aims to recognise the best-designed student publications across the country. It is split into two sub-categories for magazine and newspaper. Please enter your publication into the respective sub-category and state this on the nomination form.
Best Student Photographer
Judged by: Laura Garcia, Freelance Photographer 
This category recognises the best student photographers in the country, who provide their student publications with memorable, high-quality images showing student life and events.
Best Website
Judged by: Nick Petrie, Deputy Head of Digital, The Times
This category will recognise the best overall website and take into account design, production, content, overall impact, and user engagement.
Outstanding Commitment Award
Sponsored by: Gorkana Jobs
Judged by: Michael O'Connell Davidson (Mail Sub-Editing Grad Scheme) & Jem Collins (Politics.co.uk), Previous Winners
This category aims to reward those members of publications who have shown outstanding commitment to their title over the last year, going above and beyond the call of duty.
Best Newcomer Publication
Judged by: Brenda Wong, Voxburner
This category recognises the best new publication in student member. Publications must be no more than three years old at the time the awards closes. It will take into account quality of content, relevance to the student community and achievements in other awards.
Best Specialist Publication
Judged by: Mićo Tatalović, Environment Editor, New Scientist 
This category has been introduced to recognise the best specialist student publication, whether this is an academic journal, fashion website or science magazine. It will take into account quality of content, design and other achievements.
Best Publication
Sponsored by: Press Association
Judged by: Press Association
This category will recognise the best student publication, and shall take into account overall relevance to their student community, quality of content produced, and achievements across the other award categories.
Rules
Only students of the current academic year (2015/2016), or graduates from 2015 may enter the awards.
All work entered must have been produced or published between 14th March 2015 and 28th February 2016. Please make the date of publication clear on your submissions.
All work entered must have been produced for a student publication in the United Kingdom or the Republic of Ireland
Any publication entering the awards MUST be a member of the Student Publication Association. This will be checked on closure of the nominations period and any awards received from non-members will be disqualified.
All articles/images submitted must be clearly shown to have been published in a student publication.
Each entry may only be entered into one category, with the exception of 'Best Publication', which may include information from other entries.
In a situation where two members enter the same supporting documents for different categories, the decision on which to enter will reside with the publication's editor.
All material will be judged as received.
Any part of your entry may be used by the SPA for promotional purposes.
Entries must be submitted as PDF and DOC files only (except images).
Entries must be original work. Any plagiarism detected will result in disqualification.
The judges decisions are final.
While we will endeavour to provide feedback to all entries, this may not always be possible.