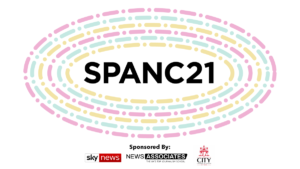 SPANC21 is fast approaching!
We're incredibly excited to announce that it's that time of year again, where we join up with our members from around the UK & Ireland to host a weekend of workshops, guest speakers, and awards at the SPA National Conference, which this year will take place online on 8-9 May.
Despite the trials and tribulations of the last year, 2020's free virtual National Conference was one of our biggest events yet, and while we miss meeting all of you in person, we are incredibly excited to return to a digital format for SPANC21 to allow as many of our 150 member publications as possible to be able to join the celebrations. The two-day event will feature everything from talks and workshops to panels with a huge range of speakers from within the media industry, on topics as diverse as the Freedom of Information Act, column-writing and getting your first full-time job within journalism.
As well as this, the annual SPA National Awards return, and we are pleased to say that nominations are now open to all members and member publications. Read up on the awards and how to apply for them in our handy Awards Guide booklet below, then submit your nominations on the form HERE.
We hope you will put yourself forward for an award, and we hope to see you in May for what promises to be our most exciting conference yet.
– The Student Publication Association Team