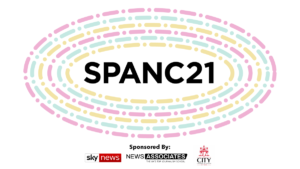 Thank you for joining us at #SPANC21!
We extend our heartfelt thanks to the hundreds of students who tuned in to our virtual annual conference, as well as the industry speakers who gave us their valuable insights, sponsors and hardworking team who helped piece the event together.
You can view the full list of #SPANC21 award winners here.
Details about the conference, which took place from 8-9 May 2021, are viewable below:
The Annual General Meeting (AGM)
As always, there will also be an AGM over the weekend. Several motions will be proposed and voted on, and several elections will be held to fill vacant positions for the forthcoming year – for a new Trustee, Chair and other positions on the Executive Committee.
This year's meeting will be held on Zoom on Saturday 8 May at 6.30PM, and is open to all members of all SPA member publications, who can join through the links emailed to their publication email.
Anyone can propose a motion for discussion, or run for one of the positions up for election. If you feel something needs to change in the organisation, or would like to join the team to help make us better, this is your chance to do so!
Events
With two jam-packed days of events, there's something for everyone at any stage of their career. Read up on our timetable of events below, and find the talks that are right for you!
SATURDAY 8 MAY
10:40am – Welcome to SPANC2021!
With Ben Warner (SPA Chair)
11:00am – Freedom of Information
With Andrew Greaves (Head of Journalism, News Associates)
11:00am – Starting Your Own Publication
With Georgia Blackman (Editor, Happy People Music), Chris Megrath (Founder, mercury mag) and Jennifer Hakim (Co-founder of The Spill)
11:00am – Science Journalism
With Dalmeet Singh Chawla (Freelancer), Anjana Ahuja (Columnist, Financial Times) & Roger Highfield (Former Editor, New Scientist and Science Editor, Telegraph)
12:00pm – Freelance Journalism
With Caroline Harrap (Co-founder, Society of Freelance Journalists), Charlie Peters (Freelancer) & Meehika Barua (Freelancer)
1:00pm – In Conversation with Alison Phillips (Editor, Daily Mirror)
1:00pm – LGBTQIA+ Reporting
With Valentino Vecchietti (Intersex Columnist, DIVA Magazine), Charlotte Moore (Freelancer), Ben Pechey (Freelancer) & Zoya Raza-Sheikh (Junior Writer, Gay Times)
2:00pm – Covering Government & The Economy
With Joe Mayes (UK Politics and Brexit Reporter, Bloomberg), Lizzy Burden (UK Economy Reporter, Bloomberg) & Madis Kabash (Producer & Part-Time QuickTake Host, Bloomberg), in Collaboration with Bloomberg
2:00pm – Media & Journalism 1-2-1 Sessions
With Jem Collins (Editor, JournoResources)
2:00pm – Personal Essays & Trauma Reporting
With Izzie Jani-Friend (Freelance Journalist) & Punteha van Terheyden (Founder, Lacuna Voices)
3:00pm – Making Your Social Media Stand Out to Employers
With James Toney (Managing Editor and Board Director, Beat Media Group)
3:00pm – Football Journalism
With Renuka Odedra (Freelancer)
3:00pm – Lifestyle Reporting
With Lily Canter (Freelancer and Senior Lecturer In Journalism at Sheffield Hallam University)
4:00pm – Tackling Disinformation in the Media
With Marianna Spring (Disinformation and Social Media Reporter, BBC News)
4:00pm – Media Law Q&A
With David Banks (Consultant on Media Law)
5:00pm – Pitching Workshop
With Jem Collins (Editor, JournoResources), Jack Sommers (Commissioning Editor, Insider), Beth Ashley (Essay Editor, The Curiosity Club) & Dhruva Balram (Editor, EachOther)
5:00pm – In conversation with Teri Schultz (Freelancer)
6:30pm – SPA Annual General Meeting
As well as member publications proposing and voting on motions, we will also be electing our 2021/2022 Executive Committee. Find out everything your need to know about running for a role here.
SUNDAY 9 MAY
11:00am – How to break into financial and data journalism, with City, University of London
Brief talk by Glyn Mottershead, Senior Lecturer in Data Journalism at City University. Panel with Jane Martinson, media columnist at the Guardian, and head of Financial Journalism MA at City University; Nivrita Ganguly, Economics Correspondent at AFP; Michael Goodier, data journalist, New Statesman; and Kim Darrah, data journalist at Tortoise Media
11:00am – Podcasting
With Katie Williams, Alasdair Hooper, Sadia Azmat & Suchandrika Chakrabarti
11:00am – NCTJ, Masters or Not At All?
With Laura Garcia (Training and Support Manager, First Draft News), Karishma Patel (Broadcast Journalist, BBC) & Emma Flint (Freelancer)
12:00pm – In Conversation with Huw Edwards (Presenter, BBC News)
12:00pm – Investigative Journalism – The Basics
With Michele Theil (Reporter, My London)
1:00pm – Freelancing as a Student
With Zesha Saleem (Freelancer), Bethany Dawson (Freelancer) & Sumaiya Ahmed (Freelancer)
1:00pm – Swap Shop/Showcase
With Jem Collins (Editor, JournoResources) & Bree Allegretti (Political Correspondent, The Guardian)
1:00pm – Social Media Journalism
With Elle Rudd (Senior Social Producer, Metro.co.uk), Kassy Cho (Founder, Almost) & Chandni Sembhi (Content Editor, ViacomCBS)
2:00pm – How to Prep for Your First Job Interview
With Louise Hastings (Managing Editor, Sky News), Sam Foster (Editor of People & Development, Sky News) & Danyal Khan (Planning Producer, Sky Sports News)
2:00pm – Unions & Unis: Navigating Difficult Relationships
With Jem Collins (Editor, JournoResources) & Bree Allegretti (Political Correspondent, The Guardian)
2:00pm – Reporting on Disability
With Hannah Shewan Stevens (Freelancer), Rachel Charlton-Dailey (Freelancer) & Claudia Walder (Founder, AbleZine)
3:00pm – Reporting on Race, Culture & Social Issues
With Shayma Bakht (Journalist, News UK), Shahed Ezaydi (Deputy Editor, Aurelia Magazine) & Christine Ofechu
3:00pm – Making a Successful Newsletter
With Rachael Davies (Freelancer), Jenny Stallard (Freelancer) & Isabella Silvers (Integrated Associate Editor, Hearst Digital Media)
3:00pm – Interactive CV Workshop with Jobs Bored
4:00pm – Getting Into & Succeeding in Journalism
With Justin Webb (Presenter, BBC Radio 4), Dominic Ponsford (Editor, Press Gazette), Sheron Boyle (Freelancer) & Faima Bakar (Freelancer)
4:00pm – Design Drop-In
With Alice Pomfret (Founder, Akin Magazine) & Jack Dearlove (Designer, JournoResources)
5:00pm – In Conversation with Anushka Asthana (Editor-At-Large, The Guardian)
5:00pm – Breaking into Sports Journalism
With Mark McAdam (Presenter, Sky Sports News)
7:00pm – The SPA National Conference Awards
Get your shirt ironed and your champagne at the ready, the SPA National Conference Awards are arriving
#SPANC21
weekend, all streamed live for free on our YouTube!
Hosted by Jem Collins & Bree Allegretti